Work continues at Volume 9, Midland Line in particular in recent times. A large batch of nearly 160 aerial photos requested from Linz is being delivered at the moment and checked in for various details as they arrive. This will expand coverage of different parts of the Ross Branch, and the Midland Line between Moana and Greymouth. When the next request is sent in probably next week it is hoped to get widespread coverage from the late 1940s of bush tramways south of Ruatapu and Ross, and tidy up a few miscellaneous details with other small batches of requests. It is well known that many bush tramways operated in the West Coast area, however it has been reluctantly decided to limit aerial investigations to these two areas for this edition of Volume 9. Researching the bush tramways from aerial photos is probably a whole separate project in itself and one that NZRM is content to leave to someone else.
A recent detour was taken to Oamaru Showgrounds in response to a post on Southern Rails where the following map was arrived at. This is superimposed on a 1956 aerial photograph of the area.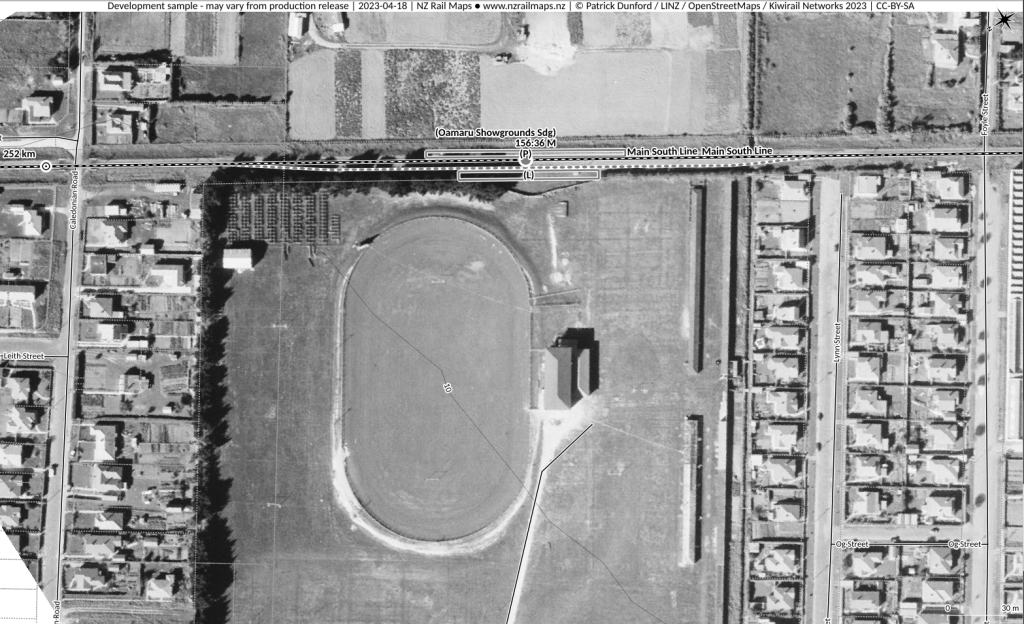 Another minor detour is currently being worked on to get some mapping of the Moutohora Branch using recently released state highway aerials that were taken when the major reconstruction of the highway occurred in the early 1960s, taking advantage of the lifting of the branch line following its closure in 1959. This effort will eventually inform the update of Volume 5 PNGL maps, which will also incorporate new aerial photography produced since the Gabrielle storms earlier this year, but the completion of the update of this project is uncertain at the present time.