This post is about the stations on the Fairlie Branch and there will be two or three posts on this topic. It's a long time since anything like this has been written on this blog (in fact all the posts of this type generally go back to Blogger days) and there isn't any plan concerning whether other posts like this one will be produced in future. So the elaborate numbering scheme that was adopted in posts in previous blogs isn't being continued with at the moment.
The Fairlie Branch leaves the Main South Line at Washdyke, just north of Timaru, and was first opened to Pleasant Point in 1875, to Albury in 1877, to Winscombe in 1883, and to Eversley, 1.2 km past Fairlie, in 1884. The short section between Eversley and Fairlie closed in 1934, at which time the length of the branch was just over 35 miles (57 km). The entire line was closed on 1 March 1968, which was two months after the closure of the Mount Somers Branch further to the north in Canterbury. The Pleasant Point Railway was formed around 1970 to establish a rail heritage museum in Pleasant Point, and they purchased the station building and a short section of the track there. They were later able to re-lay the track, which had been lifted after the branch closed, to "Keane's Crossing", where they built a new heritage railway station and service facilities. To date the Pleasant Point Railway is the most tangible remnant of the railway line since it closed more than 50 years ago, as there is very little left anywhere else.
The stations on the original branch line were at Racecourse, Cartwrights, Levels, Waitawa, Pleasant Point, Sutherlands, Cave, Ma Waro, Albury, Tengawai, Cricklewood, Winscombe, Fairlie and Eversley. Pleasant Point and Fairlie were the most significant stations with the most facilities. It is unknown at this time what facilities were provided historically at Eversley station, as it was so close to Fairlie. It was probably the first step in an extension further west for which formation was constructed another 27 km but never used. Although there have been claims in a book that traces of this formation can be found around Kimbell, this is not obvious either on aerial photos examined to date, or on Google Maps.
So here are maps for the stations (excluding Washdyke, the junction, which is part of the MSL). A few stations were closed before the branch, and their dates are listed; otherwise stations closure dates are the same as for the branch itself.
Racecourse Station
Racecourse is the first station and is quite close to Washdyke (exact distance not listed in available WTT). Facilities there in 1952 consisted solely of a platform, which is still at the site today and is one of the most tangible remnants of the former branch line. Dates and Names does not list a closure date for the station that is different from the date when passenger services on the line ceased in 1953, and it is entirely possible any passenger operations could have stopped at a different date.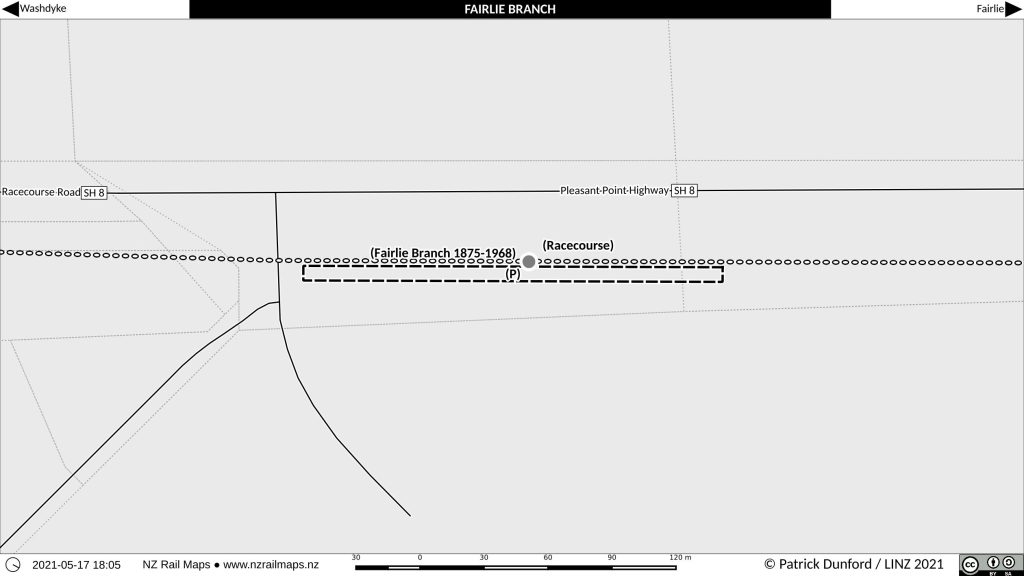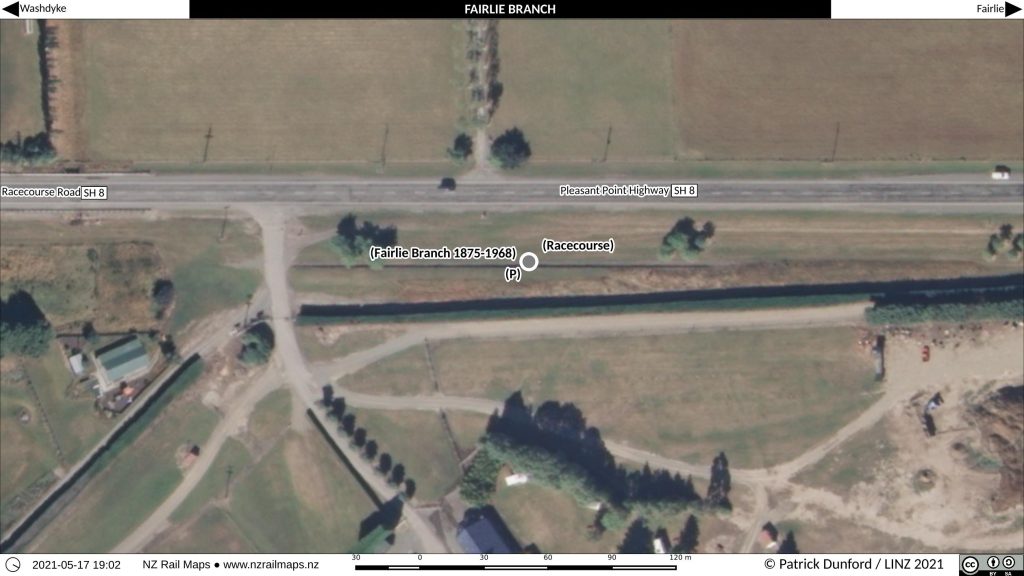 Cartwrights Station
Cartwrights is at 1.63 miles, just to the south of the intersection of State Highway 8 with Cartwrights Road and Kennels Road, and is quite close to Racecourse. The only facility in 1952 was a loop siding capable of holding 11 four-wheel wagons. The purpose for the usage of this loop is currently unknown, especially as it was so close to Washdyke. Cartwrights closed in 1952 (to passengers 1929). Because it was open to passengers earlier, it possibly may have had additional facilities at that time. There appears to be no visible trace of Cartwrights Station today.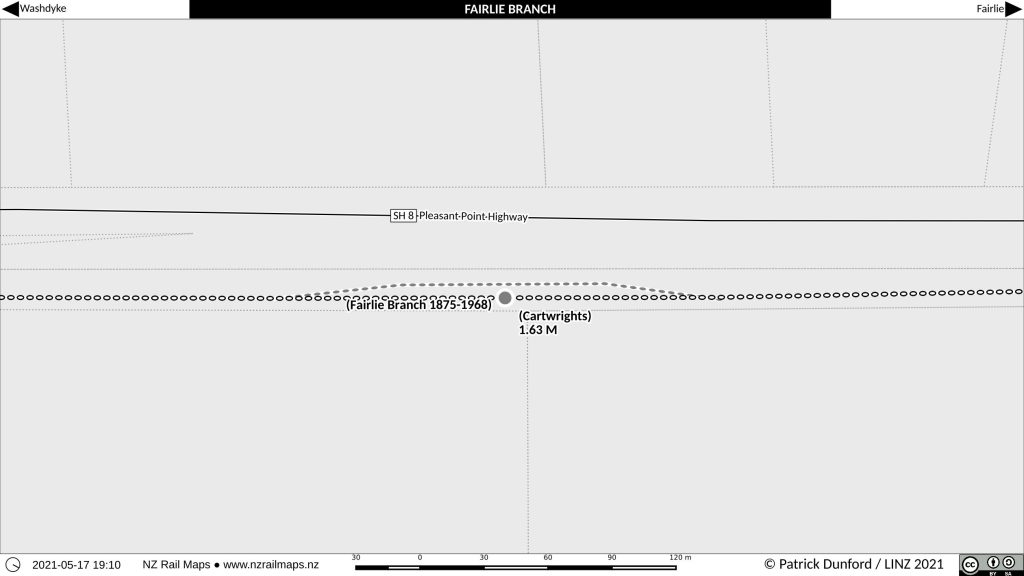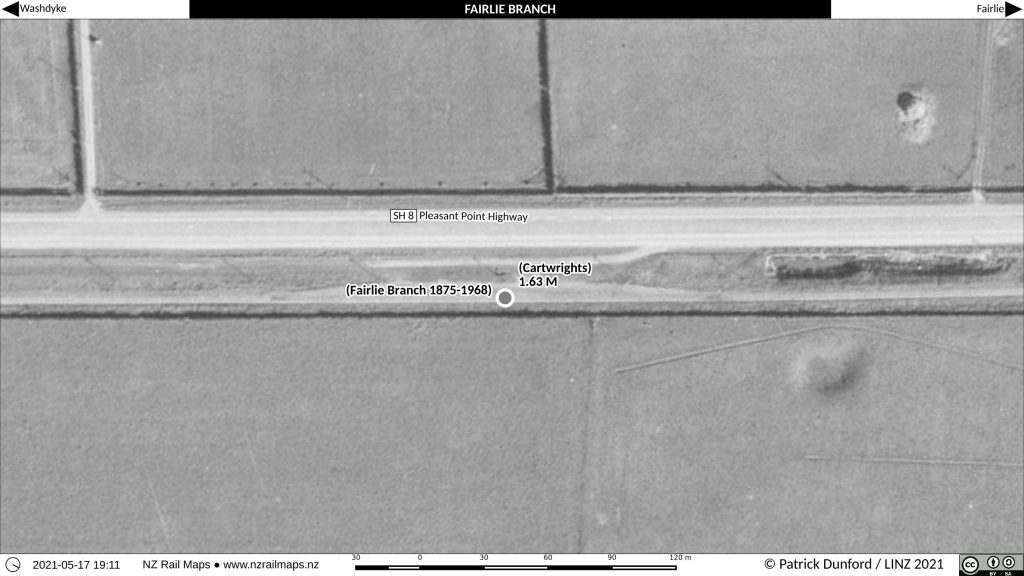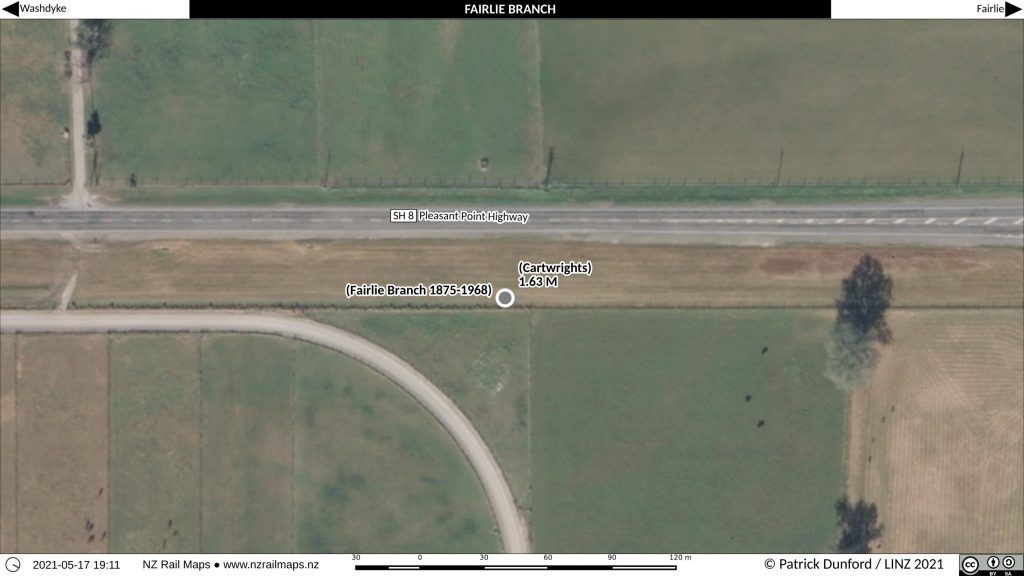 Levels Station
Levels was the first station of any substance on the Fairlie Branch and was located 3.5 miles from Washdyke. In that era, the typical station spacing was about 3 miles (5 km) and that reflects the provision of facilities at Levels, which in 1952 had a platform, building, goods shed and loading bank. The loop siding for the goods shed and loading bank could hold 20 four-wheel wagons. Today, the goods shed and loading bank still stand beside the highway.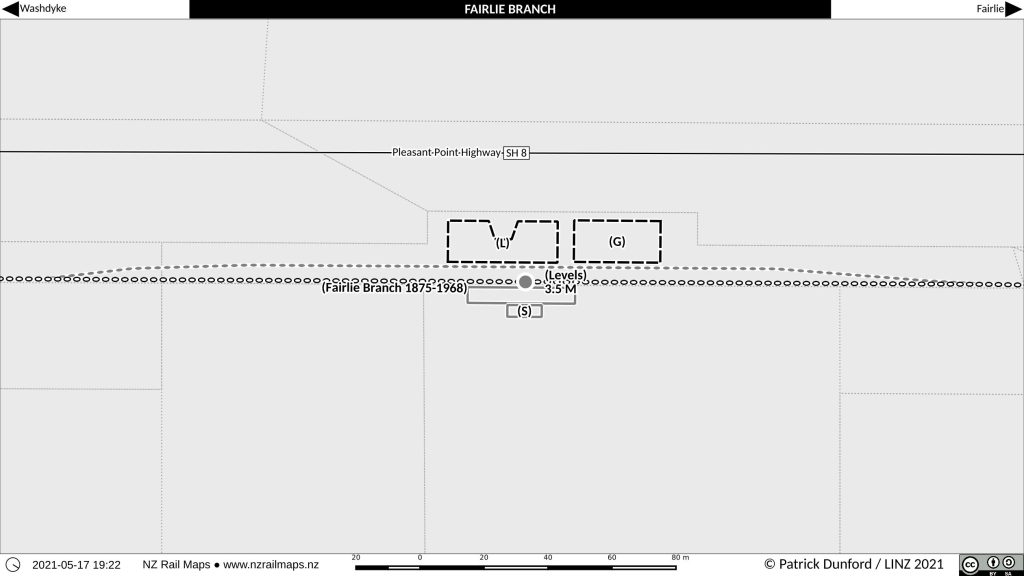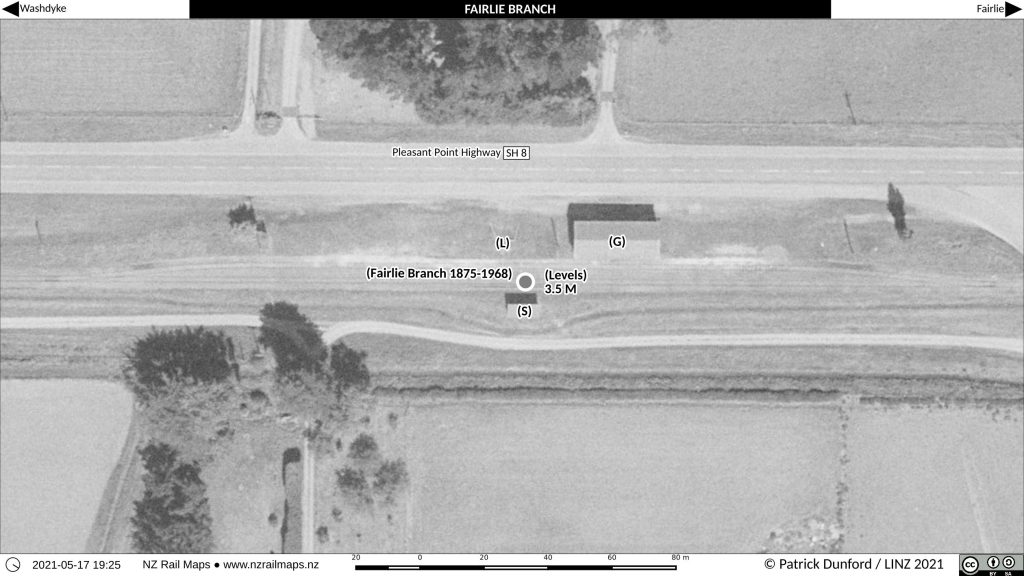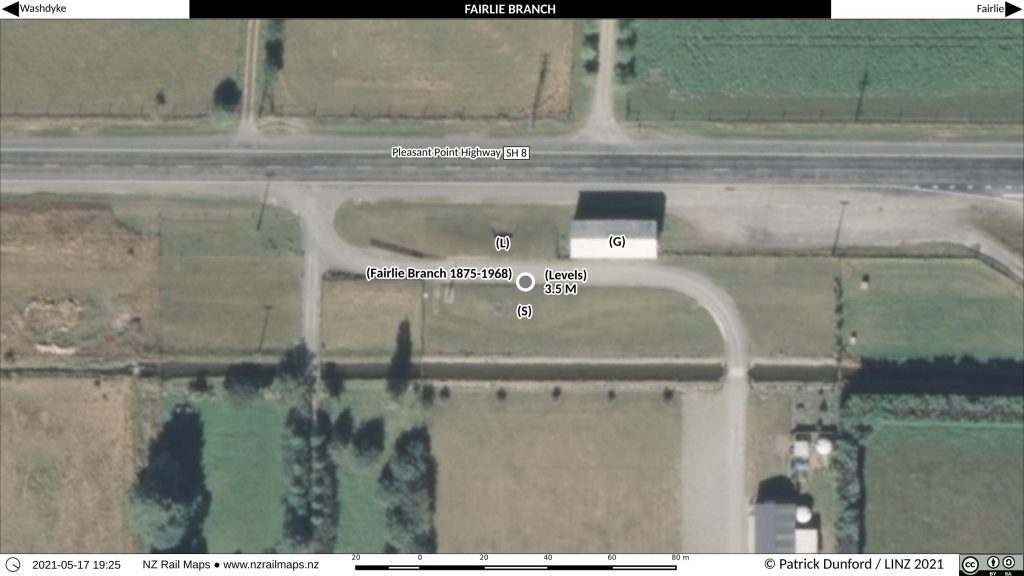 Waitawa Station
Waitawa was located at 6.24 miles and in 1952 it had a loop with a capacity of 20 four-wheel wagons, platform, building and loading bank. Waitawa closed in 1958 and at the site today, the loading bank is still visible, and the edge of the platform.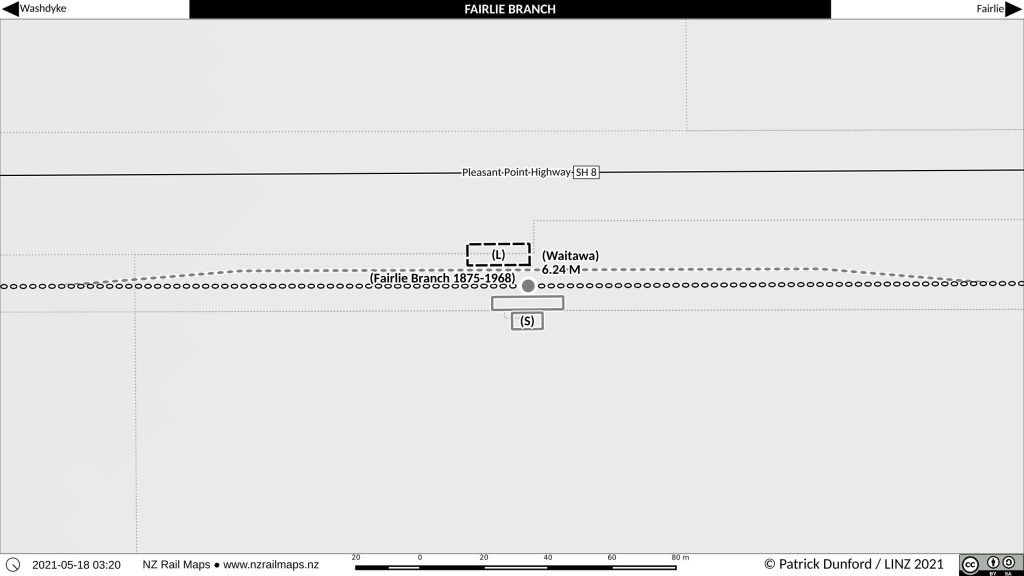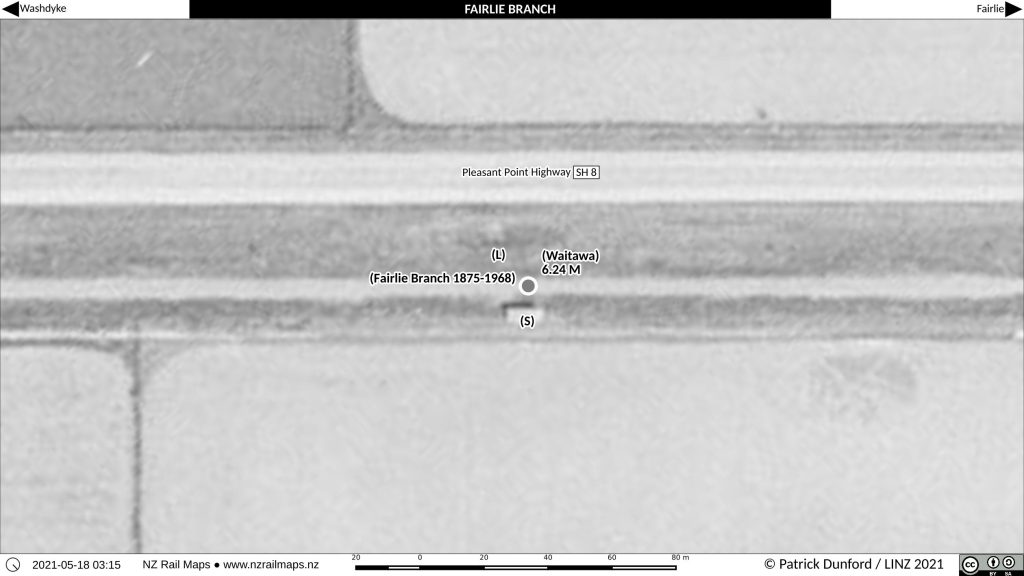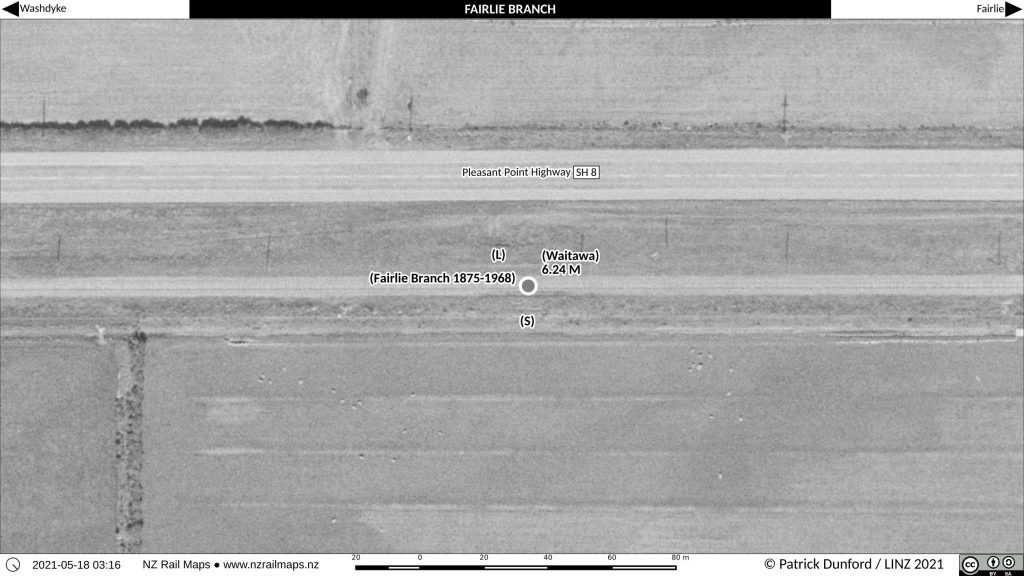 So that wraps it up for this part. It took a lot longer than expected to write, because checking keeps throwing up more information, in this case the aerials and maps for Waitawa had to be revised and the revision number on the mosaic project in Gimp has gone from version 29 to 31 today with these revisions. This is all part and parcel of the process of creating accurate maps, but does illustrate why the work takes so long.
Part 2 will cover Pleasant Point and the modern day heritage railway, and perhaps a little more, otherwise this is shaping up to be a three or possibly even four part article series.