Good afternoon. We are pleased to report that all mosaics needed to complete Volume 6 have now been created, and are being exported into tiles for Qgis today. This will enable us to resume a much speeded up rate of completion for the maps to be pushed forward with station and other layouts drawn from Cross Creek to Ngawapurua, encompassing a total distance of around 130 km of track. This in total is around three quarters of the total length of the corridor. So far, work on this volume has taken approximately 10 weeks to complete and we hope one more week or slightly more will see the volume completed. We are extremely keen to see this happen and will be pulling out the stops to ensure it does not take any longer than necessary to accomplish.
We are also working on a submission for Christchurch Transport Blog regarding the Green Party's proposal for commuter rail development especially as encompasses Christchurch. This will naturally take time away from the NZ Rail Maps project. However we will be ensuring that this time detraction is minimal in the rest of the time needed to complete Volume 6 so that that task is not impeded in any way.
Our latest station layout to be completed is Masterton (see below). Although this is out of sequence, we are pushing ahead with Cross Creek today and will bring forth the remaining layouts over the coming days as we push out the maps sequentially. Cross Creek will have to be a mixture of tracing and using a schematic layout for reference as we do not have an exact plan of the yard and the aerial photo taken in 1943 is not sharp enough to be completely sure of being able to trace accurately.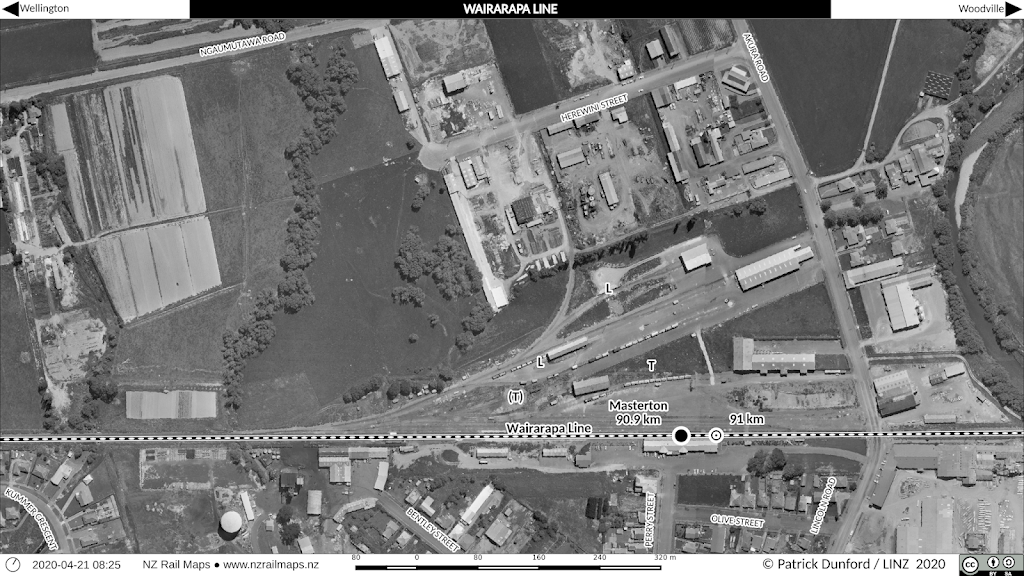 Masterton (above: 1972, below: 2017) with the diagram map at the bottom. There are still a few details to be added of the station building etc. We are unsure of the uses of various buildings and sidings at this stage.